A not-for-profit dedicated to helping caregivers, we offer:
Caregiving Tools for Families and Professionals; Nurses, Therapists and Clinicians.
Altars and Shrines
Computer Games and Environments for Meditation and for Helping Others.
Prayers and Readings for the Sick and Dying.
Amulets and Quantum Crystal Devices to stay Present and Centered in your Work.
The Caregiver Revolution starts here…and now!
The Caregiver Revolution is about personal growth and sharing. The end of life can be a time of spiritual awakening and you, the care provider, can gain wisdom by helping others at this time.  Caregiver Revolution infuses caring for others with enthusiasm and hope. Learn easy ways to:
Organize the home environment

Reduce stress

Create a care circle, 

Practice "here and now" mindfulness in the midst of the hectic caregiving environment.

Learn how to effectively deal with crises
With a light and accessible tone Caregiver Revolution's practical information is supported by real-life anecdotes and whimsical illustrations.
Caregiver Revolution should be on every professional care provider's shelf. It is packed with accessible information about practical techniques to stay "present" with patients. The perspective of this book is that the end of life is a valuable time of spiritual growth. It's foundation is that caregiving and health care provision are valuable, rewarding avocations.
" Take your time with this book. It is written from the heart. It reaches beyond the clinical advice of most texts and speaks to the soul. We should all listen." Laura Mulvihill, MS. Gerontologist
Buy Caregiver Revolution today and receive a FREE copy of the CaregiverInstaFixCD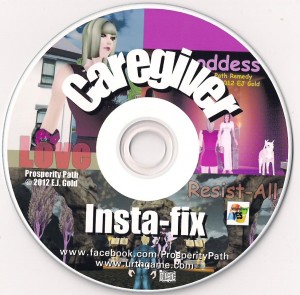 The InstaFix CD allows you to work for the benefit of your loved one immediately, with no special skills required. Simply insert the CD in your computer, and run through the orb. Your loved one will accrue the benefit of your genuine good wishes and intentions.
Make the Revolution Happen
You can benefit from caregiving if you're able to: accept the reality of your present caregiving situation, realize the importance of the work that you're doing, and make efforts to manage your caregiver stress. Then  you apply a few simple tools and techniques of mindfulness It's that simple. That's our premise…and our promise.
The methodology is simple. We help you to get organized, we give you the tools to work with stress, and then we help you to strengthen your caregiver attention. With this attention you can help others in transition because you can stay focused on the needs of the present moment during a crisis.
Does this make sense to you? We hope so. We hope that you'll join us on a wonderful journey which leads to places that only you can imagine for yourself.
A quick clarification is in order. In our title, the word 'enlightened' means 'well informed' or 'free from prejudice or superstition.' We do not presume that you'll get any wondrous spiritual illumination from this book. We'll teach you a few tricks of the trade. We want you to get down to the brass tacks, but with intention and a sense of humor. Knit-browed seriousness is not what we're after here.
The 5 Steps to Better Caregiving
This book will give you tools to help you make the most of your caregiving work and improve your skills. We have developed these techniques in workshops and while working 'in the field' over the past 20 years. These techniques will help you to develop your inherent abilities to "be in the present moment" and grow as a care provider.
Step by step you'll learn how to:
Get organized and take care of the basics
Manage the stress associated with caregiving
Strengthen your caregiver presence
Help another through crisis or transition
Provide support for someone who is dying
This may seem very ambitious to you, but it is our sincere hope in writing this book that you become more confident in helping those in crisis, dealing with your own end of life issues and helping others at the time of death.
The tools and techniques given in this book were chosen because they are time honored and effective. No religious affiliation, creed, doctrine or belief is implied or necessary. Our view of spirituality is that the expression of God, (the creator, Allah, Yahweh, the highest power…what ever you want to call it) is in the details. In the beginning we advise that you stay very detail oriented. In any situation you can intensify your focus on the specifics of that situation and that will be a window to a higher spiritual energy entering your work.
For more information please contact Grant Abrams at hospiceweb@gmail.com
Caregiver Revolution :For families, loved ones and professionals who want to change caregiving into a positive, life affirming experience.